By Steve Allen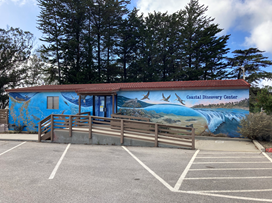 On a cool morning under the marine layer in mid-October 2021 two vans arrived at the Coastal Discovery Center (CDC) in the Hearst Memorial Beach State Park on central California's San Simeon Cove. Out hopped 14 juniors and seniors plus three teachers from Leffingwell High School in nearby Cambria for a lesson and hands-on lab experiment on real-world ocean water quality monitoring. This event was co-sponsored by the Surfrider Foundation's local San Luis Obispo chapter Blue Water Task Force-North (BWTF-N) and the Monterey Bay National Marine Sanctuary to demonstrate our on-going partnership program for detection and measurement of harmful bacteria in the water. Funding for test supplies was provided by the YLACES Foundation in Washington, D.C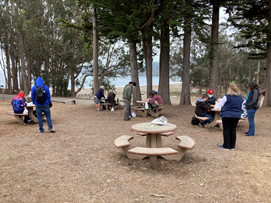 The students and teachers were ushered into the Center for an introductory video and slides about the BWTF and Monterey Bay National Marine Sanctuary. It was followed by a demonstration of lab processing of water samples to produce estimates of enterococcus bacteria in ocean samples.
The whole group then moved to outdoor tables in the surrounding Monterey pine/eucalyptus forest for an exercise in processing actual water samples collected from San Simeon Cove. Each student received a kit of all lab supplies needed to produce sample trays for insertion into an incubator for 24 hours of heating followed by analysis of results.
This is like a high school chemistry lab on a table! Whirl-pak bags with ocean water samples, vials, pipettes, reagent capsules, Quanti-Trays with processed samples to be loaded into the incubator. Most important: notice the data sheets, clipboards, and pens for keeping careful track of every step of the process for every sample! This is real science.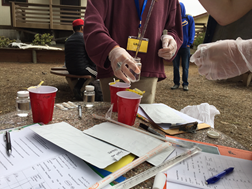 In the photo below, the teachers are discussing future collaborations between Leffingwell High and Ms. Michele Roest, marine biologist and community liaison for the Monterey Bay National Marine Sanctuary, and Surfrider volunteer Gary Dupree. The goal is to instill a sense of the rigor and excitement of science into these young students so that they may become citizen scientists in the future.
Thanks again to the YLACES Foundation's program under the direction of Mr. Dixon Butler for a grant to provide supplies for this fun and productive in-the-field teaching exercise. By the way… YLACES stands for Youth Learning as Citizen Environmental Scientists.