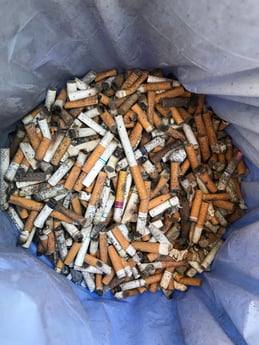 Let's make 2018 the year the Governor signs a state beach smoking ban into law. Join our #Butts4Brown campaign.
The Hold On To Your Butt (HOTYB) program works to raise awareness about the environmental impact of cigarette butt litter on our oceans, waves and beaches, and to help eliminate cigarette butt litter in San Luis Obispo County. Cigarette butts are the #1 item collected at our beach cleanups. Butts discarded on sidewalks and streets often end up in storm drains, flowing to our streams, rivers, bays, lagoons and ultimately the ocean.
Cigarette butts contain plastic and can take up to 25 years to decompose. Fish, birds and marine mammals mistake them for food, ingesting harmful chemicals. The toxins bioaccumulate up the food chain, so the fish you eat may be contaminated with chemicals from cigarettes.
We prevent cigarette butt pollution by installing ashcans throughout San Luis Obispo County and by distributing pocket ashtrays to smokers. We also raise community awareness through events like our annual Hold On To Your Butt Day and advocate for stronger law enforcement of litter laws.